Max Patch is one of my favorite spots for engagement sessions or elopements. As an Asheville Elopement Photographer, I know Western North Carolina very well and have photographed many engagement sessions and elopements. I think Max Patch is perfect for an adventure session while visiting the Asheville area. Below is one of my favorite engagement sessions!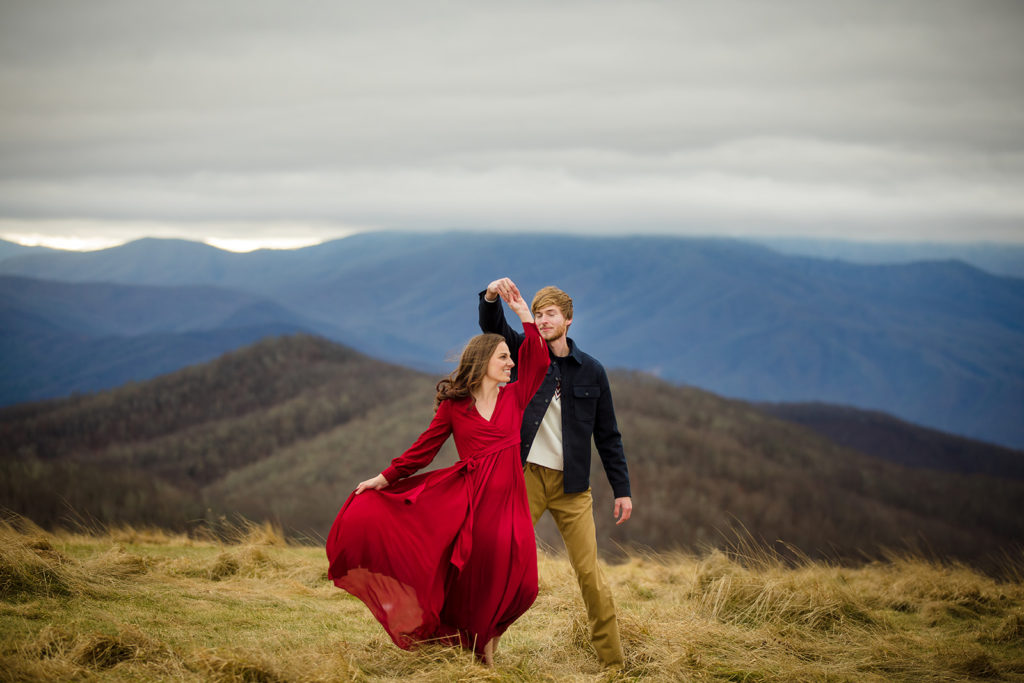 Kevan and Hannah came from Bowling Green KY and choose Max Patch for their engagement session. They met in Physical Therapy school and were both members of a Bible Study group at school. They are active and love outdoor activities. During our consultation last winter, they told me that they didn't really have any location in mind but they wanted an outdoor session with a gorgeous mountain view. However, it was during the winter and most of the areas on the Blue Ridge Parkway are closed. As an Asheville Elopement Photographer, I am familiar with the area and suggested in Max Match, which is still opened in the winter season.
I took Kevan and Hannah to Max Patch for their winter engagement session in Max Patch. They loved Max Patch for the view, and it's not difficult hiking to the top. We had so much fun even though it was cold and windy~~ Burr~~~Glad Hannah brought her sweet friends who packed everything including a tent, so Hannah can change her outfit and we could try to warm up during breaks. It was definitely a memorable experience for us. Hannah and Kevan loved their engagement photos from Max Patch.
Here is the Review from Hannah:
"Kathy is a very kind and compassionate human being. She has a caring heart and a creative mind that shows through in her photos. It is tangible how invested Kathy is in her clients, and it carries through in her photos and during the session. She is very dedicated to getting great photos as we took ours in 30-degree weather and high winds! Book Kathy!"
Quick tips for a photo session or an elopement in Max Patch:
1. How should I prepare my photo session in Max Match?
You can bring a pair of sneakers or boots for hiking. For the most gorgeous light I recommend either a sunrise or sunset session. If you prefer a sunrise session, there may be dew so your shoes and pants may get damp. You can wear a pair of boots just in case.
It can be super windy in Max Patch (but it looks so good in the pictures). For the ladies, you may want to skip having your hair professionally styled, unless you are going with an updo.
The weather can significantly cooler at Max Match, so bring a jacket or blanket. There is no area to "hide" and change your clothes. You may want to bring a blanket to hold up for each other if you want to change your outfits during the session.
2. It seems there are so many awesome locations in North Carolina for photo session. Which location do you recommend?
Great question! Legacy and Legend loves to connect our couples with the perfect location for their session whether it be mountain views, waterfalls or both! During the winter and times of the year when it may be more crowded I recommend Max Patch, In the winter there are fewer choices for mountain views with most of the areas on Blue Ridge Parkway are closed. Max Patch is one of the areas that is still opened. If you want to see more from this gorgeous location can check my other posts.
Here are a few of my favorites from their engagement session at Max Patch. Enjoy!
You can find more about this location at the link below:
Looking for hiking trails around Asheville? CLICK HERE