With elopements and traditional weddings, couples tend to gravitate towards summer dates – when the sun is shining and the weather is warm. But this means that winter elopements are incredibly underrated! Just imagine eloping in a winter wonderland, surrounded by the sound of crunching snow, the sparkle of falling flurries, and the silence of winter in the mountains – it can be pretty magical.
It takes a little bit of extra planning and there are often more logistics when it comes to tying the knot in the winter, but this guide will tell you how to plan a winter elopement in Asheville, North Carolina!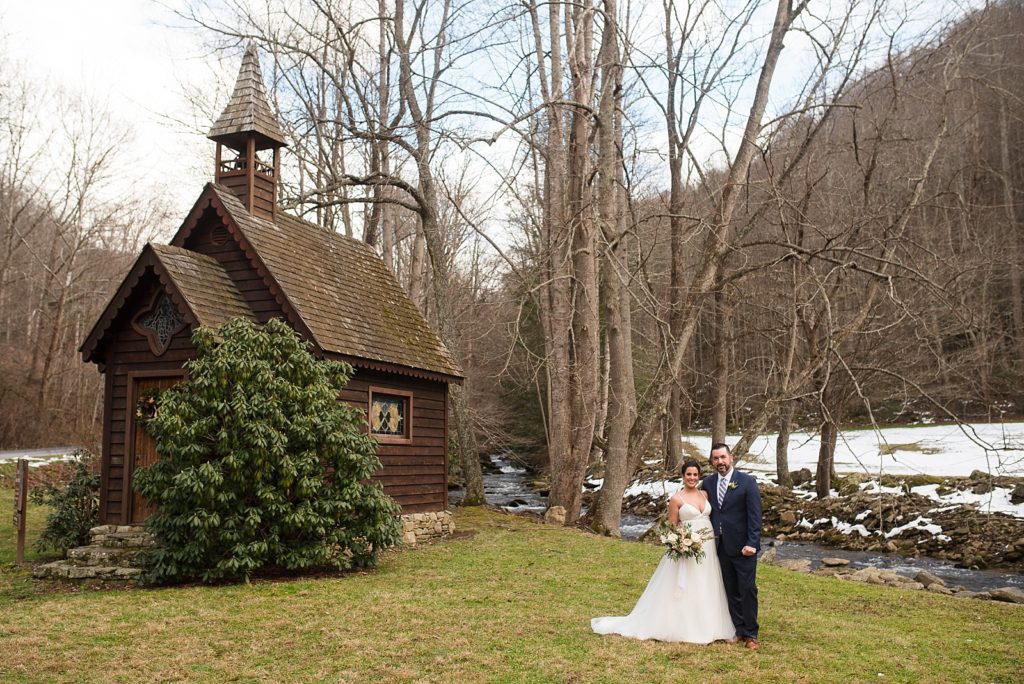 Why You Should Elope in the Winter
If summer dates are so popular, why would you elope in the winter?
The truth is that the time of year you elope totally depends on your preference and what you want out of your adventure! But, eloping in the winter has some unique perks. Here are our favorite things about cold weather elopements and some reasons to consider one!
Winter Scenery
The first reason to elope in the winter is the stunning scenery. Asheville is surrounded by gorgeous outdoor locations that offer great views year round, but in the winter, the landscape tells a totally different story.
Plunging waterfalls turn into icy crystals as the water freezes in midair, the distant mountain peaks are capped with snow, and you can wander through a winter wonderland of gorgeous white powder. The winter scenery is different, and beautiful in its own way, offering opportunities for skiing, sledding, and snowball fights! The weather in Asheville usually doesn't get too dramatic – but travel just a little outside of town, and you'll find ski resorts and winter views with plenty of snow.
Privacy
Warm weather means crowds – and all those outdoor places are way more crowded in the summer! A winter elopement gives you a unique opportunity to explore even the most popular spots with way less people around. You'll have a lot more privacy to say your vows, and you can enjoy the serene quiet that winter brings.
Winter Fun
Of course, if you like winter sports and want to incorporate some of those hobbies into your elopement day, you should elope in the winter! Your wedding day should be about doing whatever would make you the happiest – because this should truly be the best day of your life. So whether you want to hit the slopes, or you just love to make snow angels, a winter elopement is great for couples who want to be in the snow.
Best Winter Elopement Locations in Asheville
With a winter elopement, it's important to keep in mind that some locations may not be accessible year round. At high elevations, snowfall can often cause road closures, and your options for elopement locations can be a little more limited. But, there are plenty of gorgeous places around, so here are the best winter elopement locations near Asheville!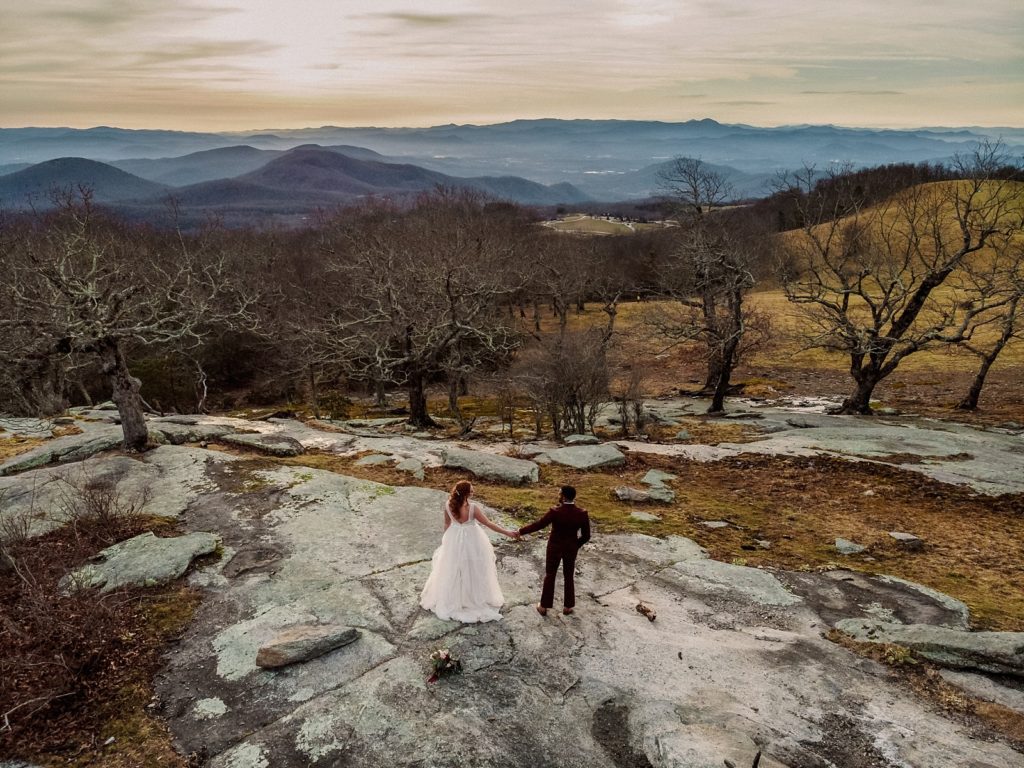 Carver's Gap
Carver's Gap is one of our favorite mountain locations – year round, but especially in the winter! Most places along the Blue Ridge Parkway are closed for winter, but this one is typically more accessible, Carver's Gap parking area remains open via plowed state highways. You'll hike less than a mile to the summit, where you'll be greeted with vast panoramas and 360 degree views around the grassy (or snowy) mountain!
Bearwallow Mountain
The Bearwallow Mountain trail is an easy hike with stunning scenery! In the winter, the grassy meadow at the summit often gets a dusting of snow, and you'll see several mountain peaks in the distance. Make this an out and back trail or a loop!
Dry Falls
If you haven't seen a frozen waterfall, put this on your bucket list! Dry Falls is about 80 miles outside of Asheville, and is the perfect backdrop for a winter elopement. Icicles accumulate on the falls as the temperatures drop, and if it gets cold enough, the whole thing becomes a frozen, icy wall over the cliffside. It's a truly jaw dropping sight, and one of the best winter elopement locations.
What to Wear for a Winter Elopement
The question of what to wear becomes a little trickier when you plan a winter elopement – you want to look your best and rock the dress or suit, but you've got to stay warm too! You don't want to be shivering all day, so it's important to think about your attire.
Winter Elopement Dresses
Heavier fabrics – like silk and velvet are great for winter elopements, as they'll help you stay warm. But, you'll definitely want to add some layers! Thermal leggings or other base layers can work wonders, and can slip under your dress discreetly. Instead of your old winter jacket, consider adding a cape, shawl, or an overcoat that matches the vibe of your dress! This will give you a really regal look, and will help keep you warm.
Winter Elopement Suits
Luckily, wedding suits lend themselves perfectly to layering! They usually come with jackets, making it easy to adjust your attire based on the weather. There are fabrics – like flannel – that will be heavier and warmer, and you can add base layers under your suit as well.
Winter Elopement Shoes
The shoes are extra important for winter elopements! Opt for some hiking boots that are waterproof, and that come up a little higher than your ankles to prevent wet socks. Still, we always recommend bringing an extra pair of socks just in case, and wool socks are perfect for winter elopements. Wool manages to be warm even when it's wet, which means these socks are the best for hiking.
Winter Elopement Tips
Winter elopements come with some extra considerations and logistics – so here are some things to keep in mind, and tips for your day!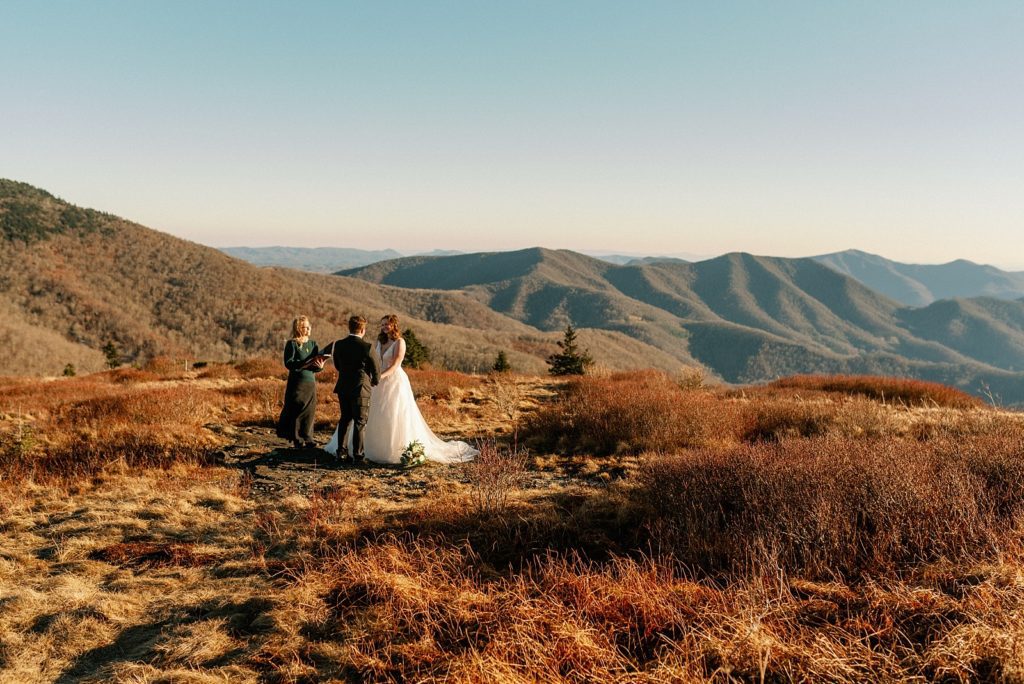 Have a Backup Plan
First, it's always important to have a backup plan – but especially in the winter, when snow conditions can change and road and trail closures can be unexpected. With our all inclusive elopement packages, we take care of this for you, because we have the outdoor experience necessary to plan a winter elopement! If you have family or friends attending, it can be a good idea to rent a small venue, so that you have an indoor place to get warm or a backup option just in case.
Bring Hand Warmers
Those little HotHands packets work wonders! Bring a few along for your winter elopement, and they can help you stay warm throughout the day. For hiking elopements, couples usually feel warm while walking, but it can cool down fast once you've stopped – so be sure to bring extra gear, because things can change quickly in the mountains!
Winter Elopement Packages
Our all inclusive elopement packages are designed to make elopement planning easy! We'll help you craft the perfect winter elopement – from finding the best winter elopement locations, to figuring out permits, to making a timeline for the day.
Contact us to get started!