When you decide to have a small ceremony – to cut the "fluff" from your wedding day, to be intentional in how you get married and who's there with you – a lot of the things you'd have for a traditional wedding get cut from the plans.
You might get married outdoors instead of in a traditional venue, spend money on travel instead of centerpieces, and invest in the things that matter to you. Most couples think of a photographer as an essential part of their elopement day, but don't consider an elopement videographer to be as important!
But, the truth is that video is just as vital, and it captures your day differently than photos can – so here's why an elopement videographer is totally worth investing in!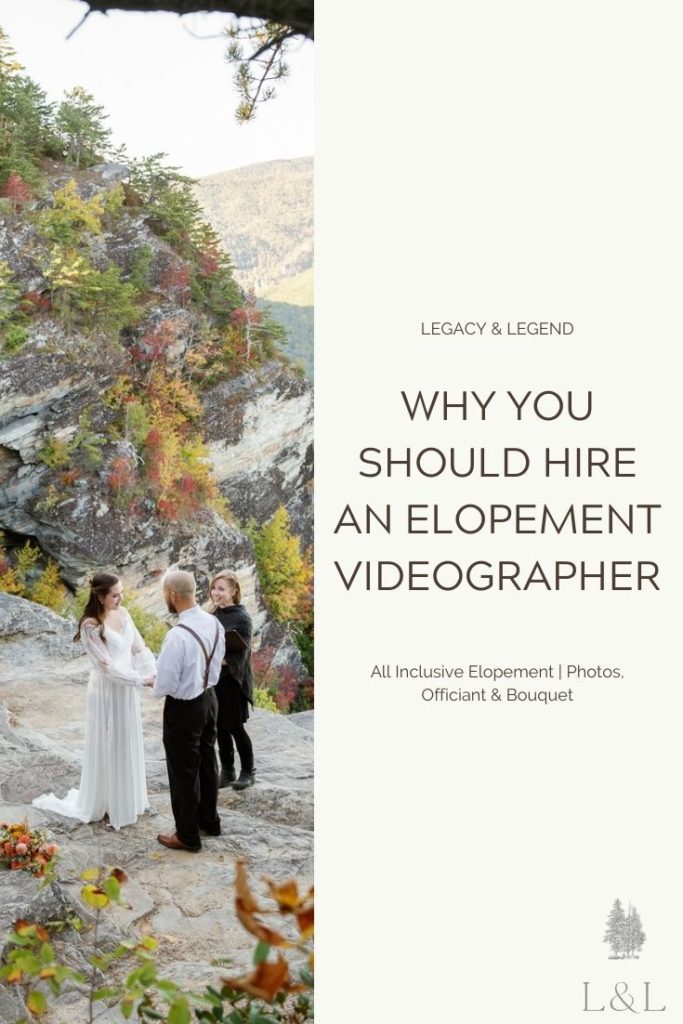 Elopement Videography Captures Sound
The first reason to hire an elopement videographer is that video captures sound! Your photos can show you the emotions of exchanging vows, but you won't be able to hear what your partner said when you flip through your photo album.
Being able to hear what was said on your wedding day is so special, and most elopement videographers will record the vows for you!
Elopement Videography Captures Movement
While photos can capture small, in between moments and memories from your elopement day, seeing those moments on video is a completely different experience. On video, you can see movement and action, and truly see your elopement day exactly as it happened.
Elopement Videography Captures the Highlights
An elopement video isn't an hours long film capturing everything from your day – because sitting down to watch that probably isn't something you'll do often. An elopement videographer captures the highlights – including the big moments (like the ceremony), as well as the smaller in between ones you may not even recognize as they happen – like the looks and smiles exchanged with your partner, snippets of your adventure, and small clips that will tell the story of your wedding day in a few minutes.
Your elopement videographer will create a video that's a few minutes long, capturing everything in a short highlight reel.
Elopement Videos Give You a Family Heirloom
Years from your elopement day, your kids, grandkids, nieces and nephews, or any other family members will love flipping through photo albums to see photos of you. Your elopement photos will be especially meaningful for them, but imagine if they could see the two of you on video – hear your voices, see you move, and really feel like they're there with you, transported through time.
The experience will be so magical for them, and for you, and it wouldn't be quite the same without video!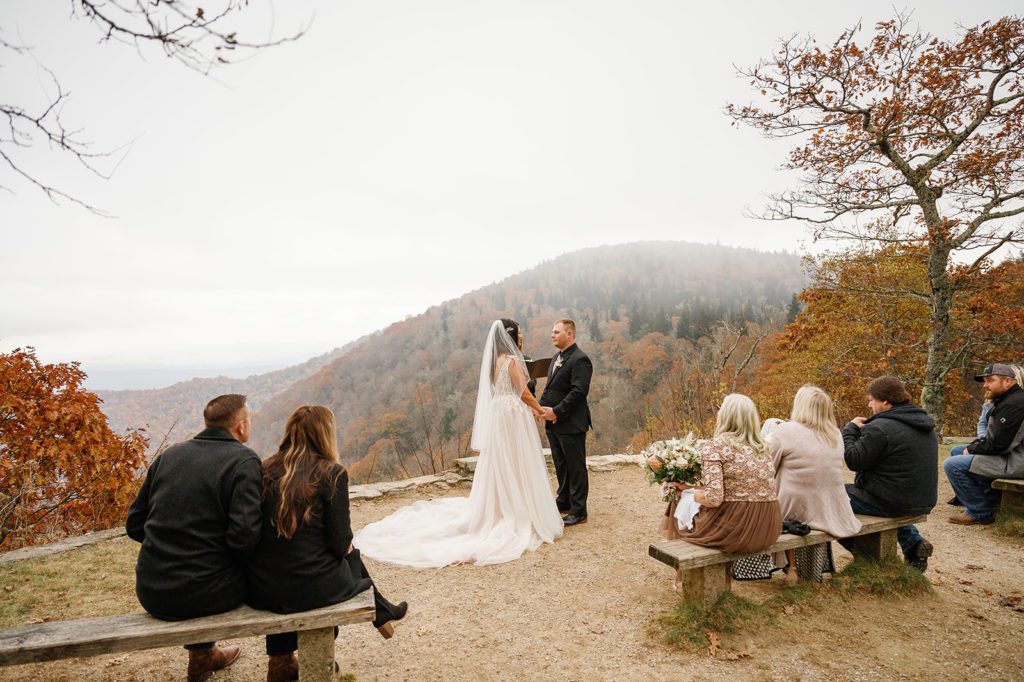 You Can Watch Your Elopement Video on Anniversaries
Having an elopement video gives you something simple, but so meaningful, to do on your anniversary. Some years you may not have a big celebration together, but just curling up on the couch and taking the time to watch your video will be a special experience to enjoy each year. And of course, you can watch it between anniversaries anytime!
Showing Friends & Family Your Elopement Video
If you have a private elopement, or you have some family or friends who aren't there with you, showing them the elopement video will be such a great way to make them feel included! Seeing the video from your elopement day will make them feel like they're experiencing the moment with you, and they'll see all the magic, adventure, and beauty that made your elopement so incredible.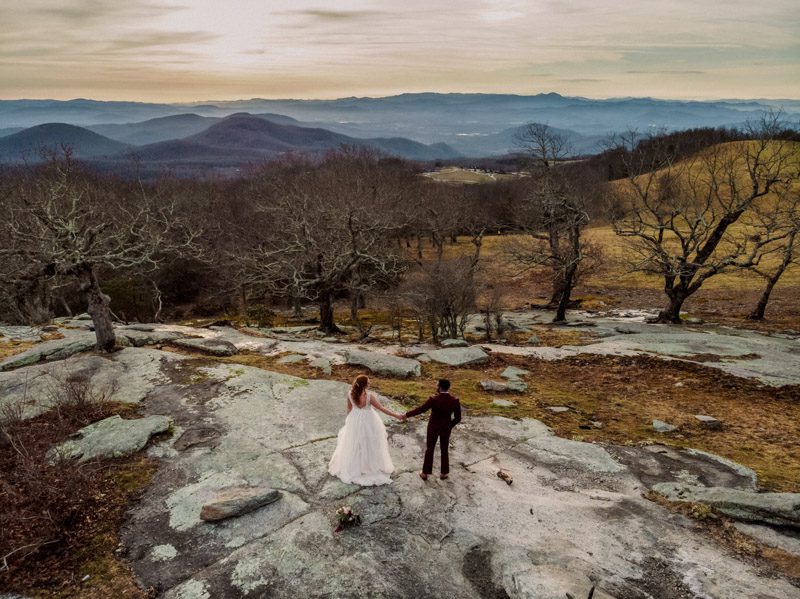 Tips for Hiring an Elopement Videographer
Once you've decided that you want to add video coverage to your elopement, here are some tips for finding the right videographer!
Invest in a Professional
It's so important that your elopement videographer (and all your elopement vendors) are experienced professionals – this will make a huge difference not only in the quality, but also in the experience you have on your day.
Your elopement videographer will be responsible for documenting the best day of your life – and hiring a professional ensures that they have the equipment necessary to work outdoors,
backup equipment to avoid any technical difficulties that could result in lost footage, and they'll know how to make sure your day goes smoothly.
Check Drone Regulations
We recommend finding a videographer who adds drone footage, as this can look really amazing in an elopement video! However, some locations don't allow drones, so it's important to check this once you decide where to elope.
Make sure your videographer does their research and knows what the regulations are, as flying a drone when it isn't permitted can lead to hefty fines, and may even get you kicked out of the park or location – definitely not something you want to happen on your wedding day!
Hire a Team of Elopement Vendors
The best advice we have for finding your elopement videographer is to hire a team of vendors who work together! This is the best option for several reasons.
First, an all inclusive elopement package is the easiest way to elope. You won't have to worry about a thing, and you'll have everything you need, all in one place. We work with photographers, videographers, florists, and more, to bring you a team of experienced, qualified
vendors. You won't have to book them separately!
Another huge perk of hiring a team of elopement vendors is that they will be used to working together. Sometimes, a photographer and videographer who haven't worked together before can become a mess if they don't communicate and work together to ensure the best possible outcome for both. But, our all inclusive elopements include photography and videography, and because we're on the same team, we know how to come together to ensure the most amazing experience, and the best results for our couples.
To learn more about elopement videography and our all inclusive packages, contact us!
View Adam and Eden's Elopement video!