If you can't imagine tying the knot with your fur baby, your doggo, your pup, your little furball
(or whatever silly nickname they've acquired over the years) – this guide's for you! Your dog is
part of the family, so of course you want to include them in the most important day of your life.
Planning a dog friendly elopement requires a little bit of extra thought – but it's so worth it to
include your dog in your wedding! This guide will tell you everything you need to know to plan a
day that they'll love being a part of
How to Find a Dog Friendly Elopement Location
One of the first things you'll do when you're planning your adventurous elopement day is
decide where you want to elope! Not all parks and trails allow dogs, so you'll need to find a dog
friendly elopement location. Here are some tips to help you do that!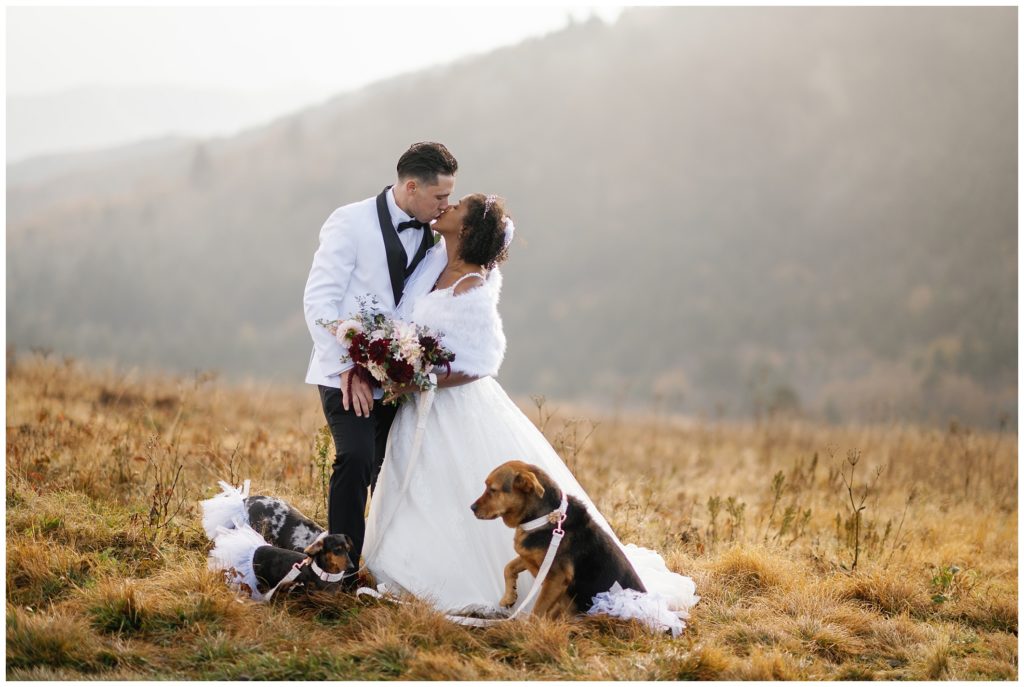 Avoid National Parks
While there are some exceptions, national parks are usually not very dog friendly. They'll
typically allow dogs only in developed areas – like parking lots and campgrounds. The hiking
trails are usually off limits for four legged friends, because national parks are a preserve for
wildlife, and dogs can create some dangerous situations if they run into other animals.
When you're searching for a dog friendly elopement location, we recommend avoiding national
parks, unless you're ok with sticking to developed spots! State parks can be a good option, but
our favorite is national forests. National forests can usually be found right outside of national
parks, so they offer similar scenery. The difference is that they're less developed, less popular,
and have way fewer rules and regulations! Most of the time, national forests will allow dogs just
about everywhere (there can be exceptions, so definitely double check before you decide) – as
long as they're on a leash.
Use AllTrails
Alltrails is one of the most popular ways to find hiking trails, and it's great for finding a dog
friendly elopement location! You can search for hikes, and filter by distance, elevation gain,
whether dogs are allowed, and even what kind of scenery you'll see.

Think About Your Dog's Needs
While it's definitely important to make sure your elopement location allows dogs, it's just as
important to make sure that your dog will be okay adventuring with you. For example, if a trail
includes a lot of rock scrambles that require a little bit of climbing, a dog might not be able to
handle that. Read about the trail, check out reviews, and make sure that it's not only dog
friendly, but also dog safe.

You'll also need to think about your dog and their unique needs – if your dog is more of a couch
potato, they probably won't want to embark (pun intended) on an 8 mile hike. If they get
nervous around strangers, you might want to stay away from popular or crowded trails
How to Include Your Dog in Your Elopement
Once you've decided on a location, here are some tips and ideas for including your dog in the
elopement day!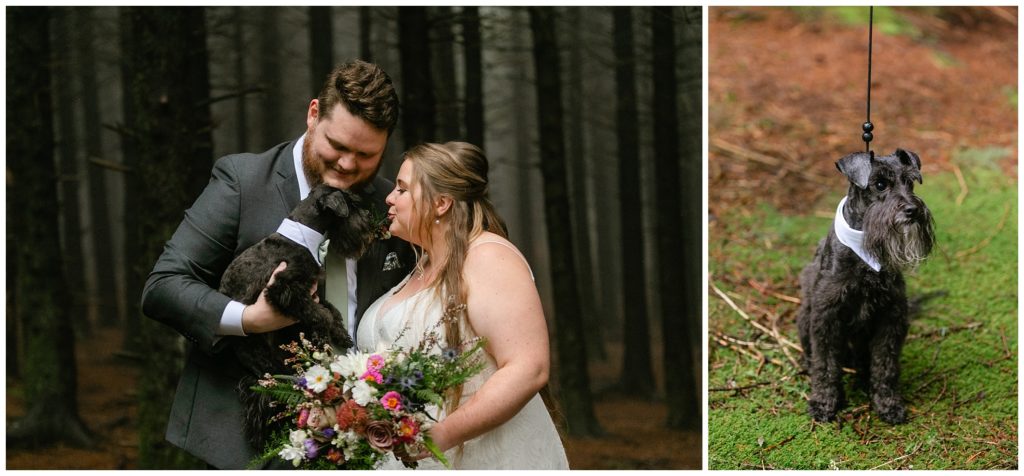 Get Them an Outfit
It can be really cute to dress up your dog! If your dog isn't one to wear a fancy doggy suit or
dress, you can also get them some smaller accessories that will look just as great – like a
bowtie. You can also ask your florist to make a floral collar to match your bouquet!
Even if doggy accessories aren't really your thing (or not their thing), we still recommend
getting them a nice leather collar and a leash for the big day – these will look a lot nicer than
something like a retractable leash and brightly colored collar, and will photograph well and
make everything look more cohesive!
Give Them a Role
Your dog can totally just be there as a guest on your elopement day, but you can also give
them a job to do! They can be the dog of honor or best dog, sitting by your side during the
ceremony, they can walk down the "aisle" with you, or they can even be ring bearers or flower
dogs.
We don't recommend just giving them the rings to hold, but there are special collars you can
get with clips for the rings, and ring pillows that attach to dog collars or harnesses.
You can also have a flower dog, but they probably won't be able to throw petals on the ground
(flower petals are also not LNT friendly in most places). Some fun alternatives can include
giving them a sign or photo to carry, holding a stick with a ribbon attached, or tying a balloon
to their collar.
Some dogs will love having a job to do, but it's not for every pup! You know your dog best, so
consider their personality, how cooperative they tend to be with tasks like these, and whether
giving them a role during your elopement will work for them.
Get Ready With Your Dog
There are plenty of Airbnbs and cabins that will let your dog stay with you, so having them
there while you get ready is another great way to include your pup in your elopement day! Even
if you decide on a hike or elopement spot that isn't dog friendly, you can include them in
getting ready photos and give them lots of love in the beginning part of your wedding day.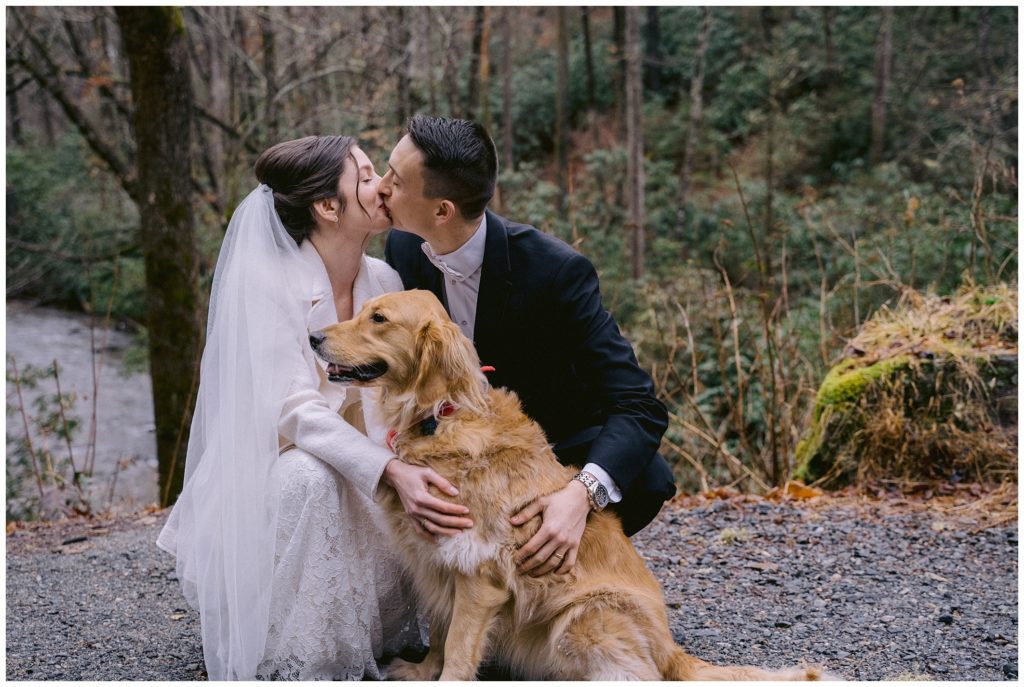 Tips for Your Dog Friendly Elopement
Keeping your dog safe and happy will be important on the elopement day, so here are some
tips to keep in mind, and advice for your elopement.
Bring Extra Supplies
If your dog joins you for an adventure, they'll need extra snacks, extra water, and maybe a
jacket or some paw protection. Make sure to put all of this on your packing list, and bring all
the supplies your pup will need – and more, because it's always better to be overprepared!
Designate Someone to Help
If you're inviting guests to your elopement, it can be a good idea to designate someone to be
the dog wrangler. That way, you won't have to worry about holding the leash or taking care of
the pup, and you can relax!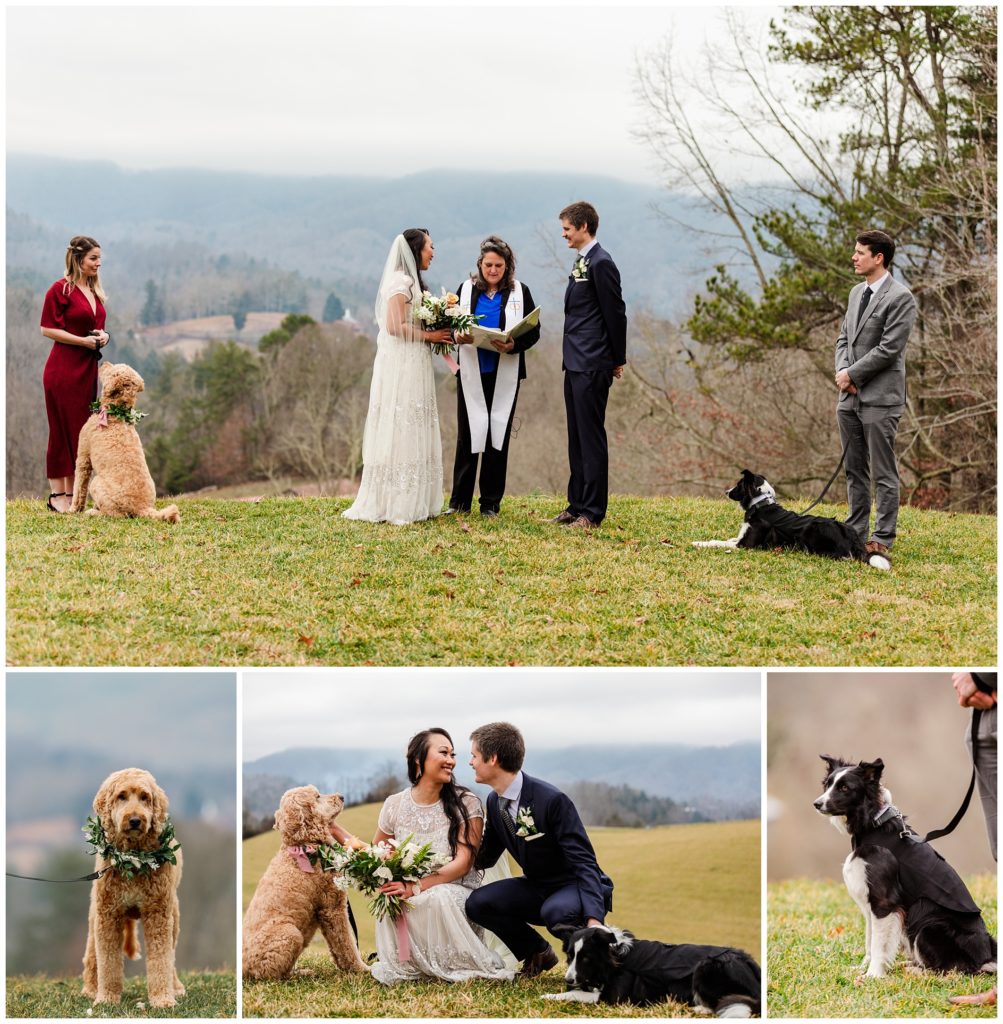 Remember Leave No Trace Principles
Make sure to keep your elopement Leave No Trace friendly, and learn about the rules and
regulations for your dog friendly elopement location. Different parks can have different rules,
but in general, be sure to keep your dog leashed, keep them on the trail, pack out any waste,
and respect other park visitors by keeping your dog close to you!
Hire Dog Friendly Elopement Vendors
Eloping is all about doing what makes you happy – and planning a wedding day that's
everything you want! So if that includes bringing your furry best friend along, we're ready to
help you plan the best dog friendly elopement ever!
Our all inclusive elopement packages are designed to ensure a stress free, laid back
experience for you – and we can guarantee you'll have lots of photos of your pup at the end of
it! Contact us to start planning.