So, you've decided to elope! And we are SO here for it. You've decided to make your wedding day intentional, intimate, meaningful, and authentic – none of that fluff that comes with big, traditional weddings. You're forgoing tradition, breaking the rules, and paving your own path, and that makes you pretty awesome in our book. We've put together the ultimate guide for planning your elopement in Asheville, North Carolina. Why? Because we believe that when you have the right location, the perfect timing, and an incredible elopement team, your photos (and more importantly, your elopement experience) will be nothing short of amazing. Keep reading to learn all about how to elope in Asheville!
Choose Your Location
Asheville sits right in the Blue Ridge Mountains of North Carolina, making it an epic elopement destination! The town itself is known for its breweries, music, and thriving art scene, and is surrounded by countless trails that will take you to incredible views of the mountains, waterfalls, and natural wonders that Asheville has to offer. Narrowing down your elopement location can be difficult (because you have so many amazing options!), so here are just a few of our favorite places to elope in Asheville.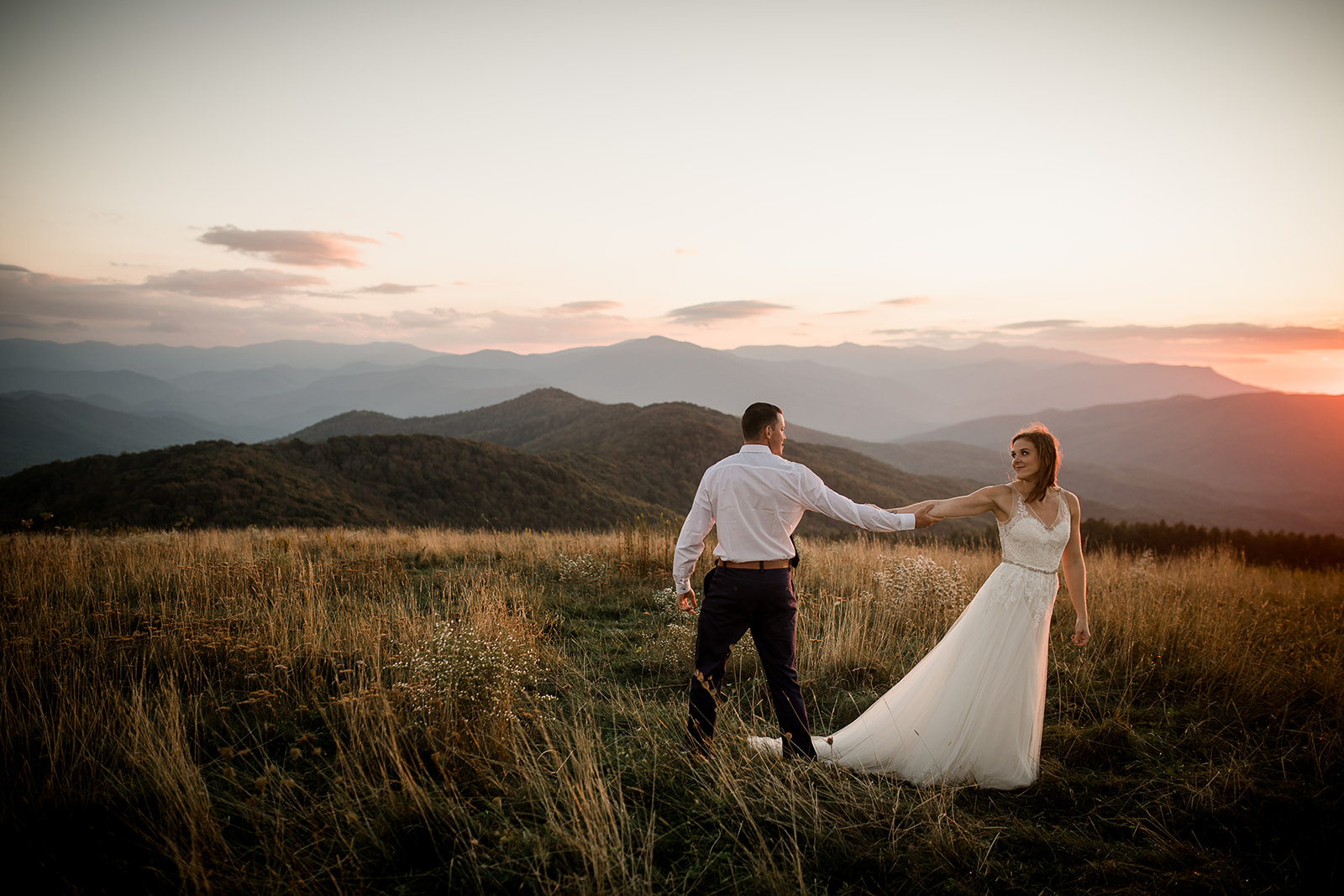 Great Smoky Mountains National Park
There's a reason why this is the most visited national park in the United States! Spanning across the border of Tennessee and North Carolina, the park is known for its diversity in plant and animal life. The park is most famous for the smoky haze that often rests on the gorgeous mountain range, which reaches incredible heights of almost 7,000 feet! In this park, you can get everything from lakes to waterfalls to mountains, sometimes all in the same day!
Most of the park is open for elopements with 20 people or less, but if you are planning to have more guests at your elopement, you are limited to a list of approved locations. A permit is required to have your ceremony in this national park, and your application must be filled out at least 14 days in advance. The application fee is $50, and can be paid online. Here is a great resource for more information about the permit for Great Smoky Mountains National Park! Another great reason to elope at Great Smoky Mountain National Park? They are one of the few national parks in the United States that don't charge an entrance fee!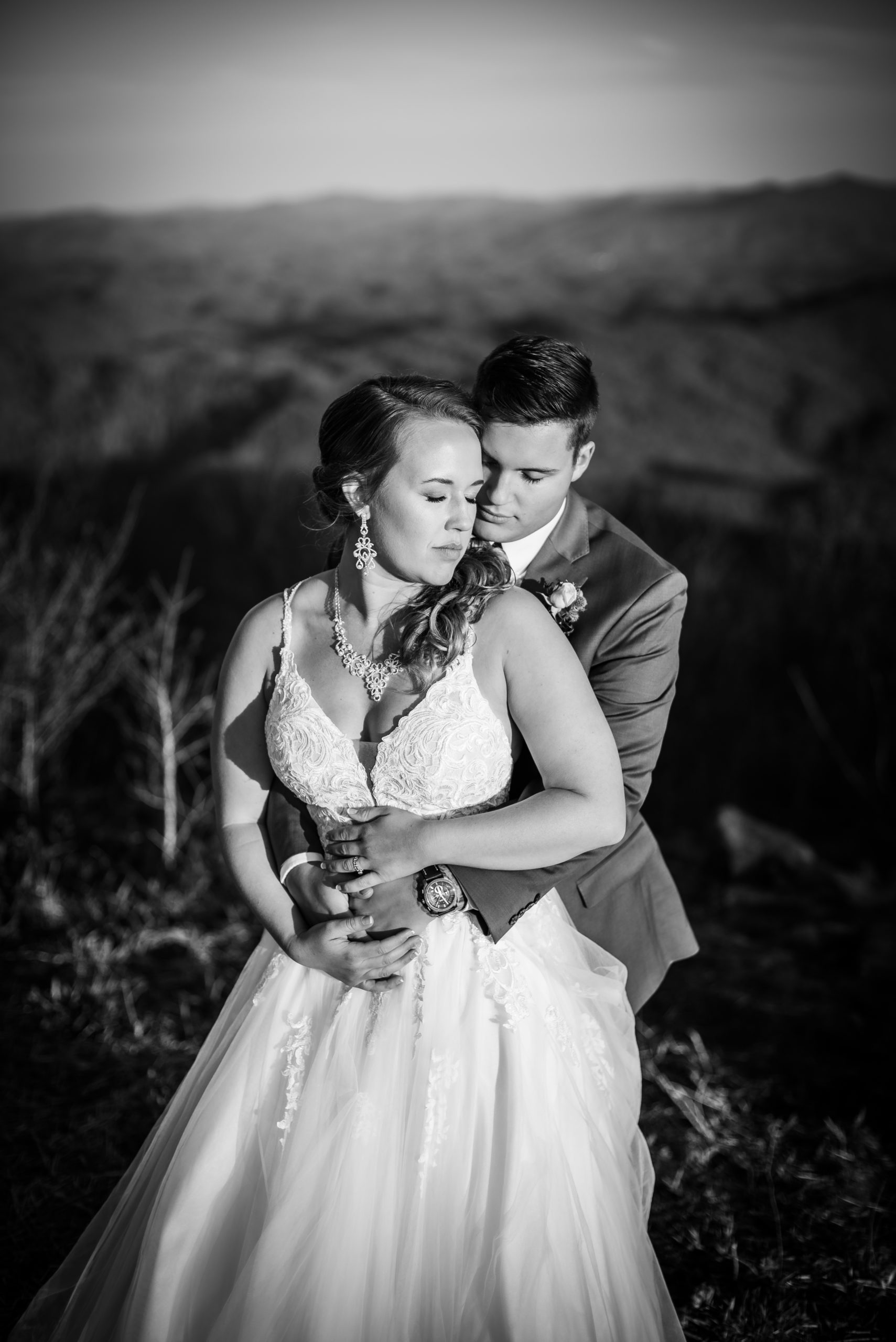 Blue Ridge Parkway
The Blue Ridge Parkway stretches all the way from Virginia to North Carolina. From Asheville, it runs north and south, with miles of trails to explore. Along the Blue Ridge Parkway, you can find everything from ADA accessible overlooks that you can drive up to, to hiking trails that offer a reprieve from the long stretch of highway. It's important to note that there are some locations along the Blue Ridge Parkway that don't allow elopements, but even then, there are a ton of places to choose from. Don't worry, though! One of the best parts of our job is finding the perfect location for each couple. We're ready to go with locations that we've scouted along the Parkway.
The parkway is managed by the National Park Service, so a special use permit will be required. Permits cost $100 – $60 for the application fee, and $40 for the permit once your application is approved. You can find more information, along with the permit application, here.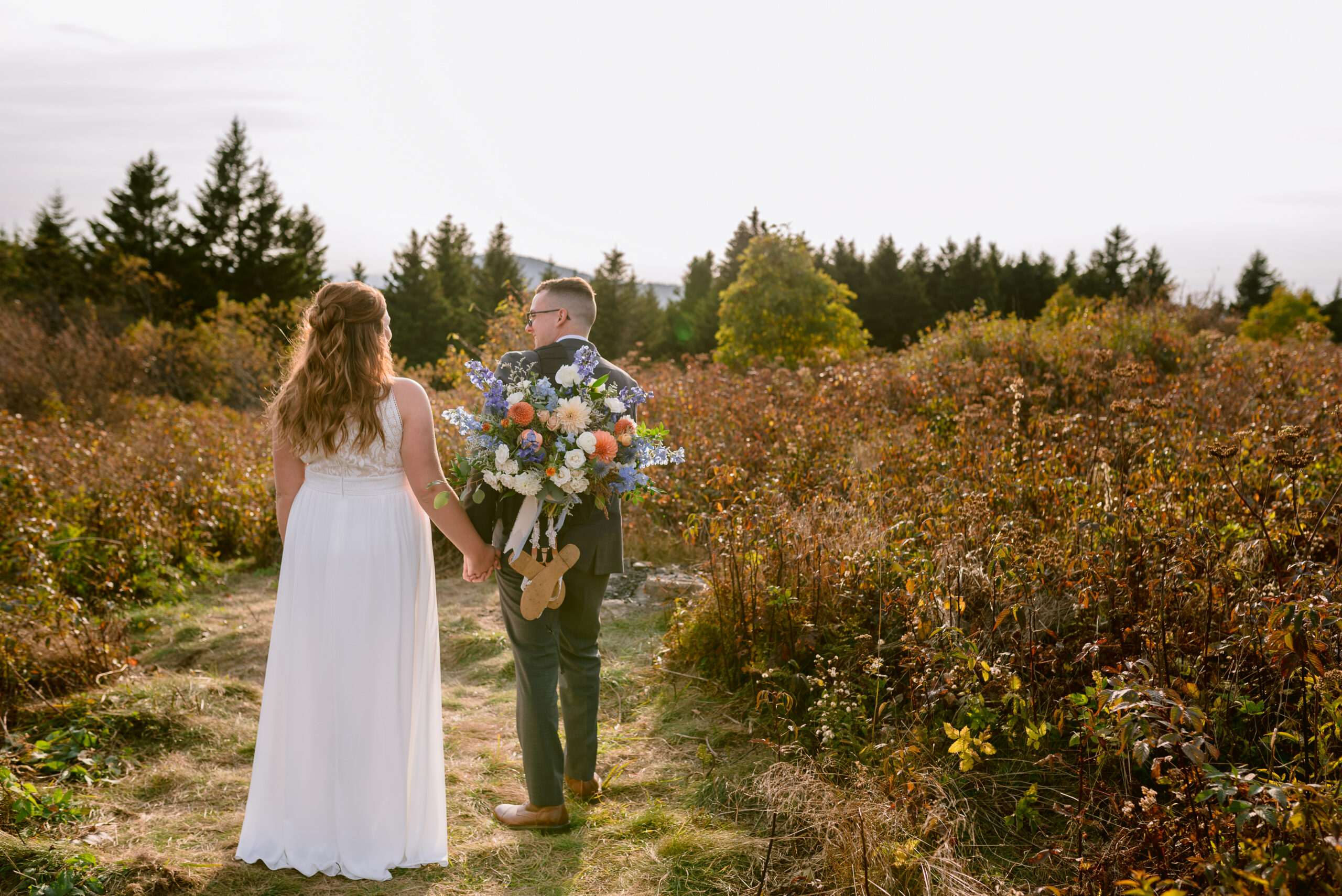 Lake Glenville
Did you know that there's a rainforest in North Carolina? Not only that, but nestled in a rainforest in the mountains of North Carolina, lies a gorgeous blue reservoir called Lake Glenville. The lake is a stunning place to elope – with 26 miles of shoreline there's no shortage of great ceremony locations. One unique feature of Lake Glenville is that it has three waterfalls! You can rent a boat and explore, and say your vows next to a waterfall. By getting away from the beach, you're bound to have a more intimate experience away from the crowds! There are also some secluded coves to adventure around, and outdoor lovers are bound to have a great time at Lake Glenville, especially if you like paddleboarding, swimming, or kayaking!
Local Venues
Want to get married at a venue, and then adventure after? This can be a really great option for couples who want to get married with their friends and family around, but still want some adventure and some time to themselves on their wedding day. You can get married at a gorgeous outdoor venue with your people around you, and schedule an adventure session for the next day. Here are some stunning venues where you don't have to sacrifice your love of the outdoors: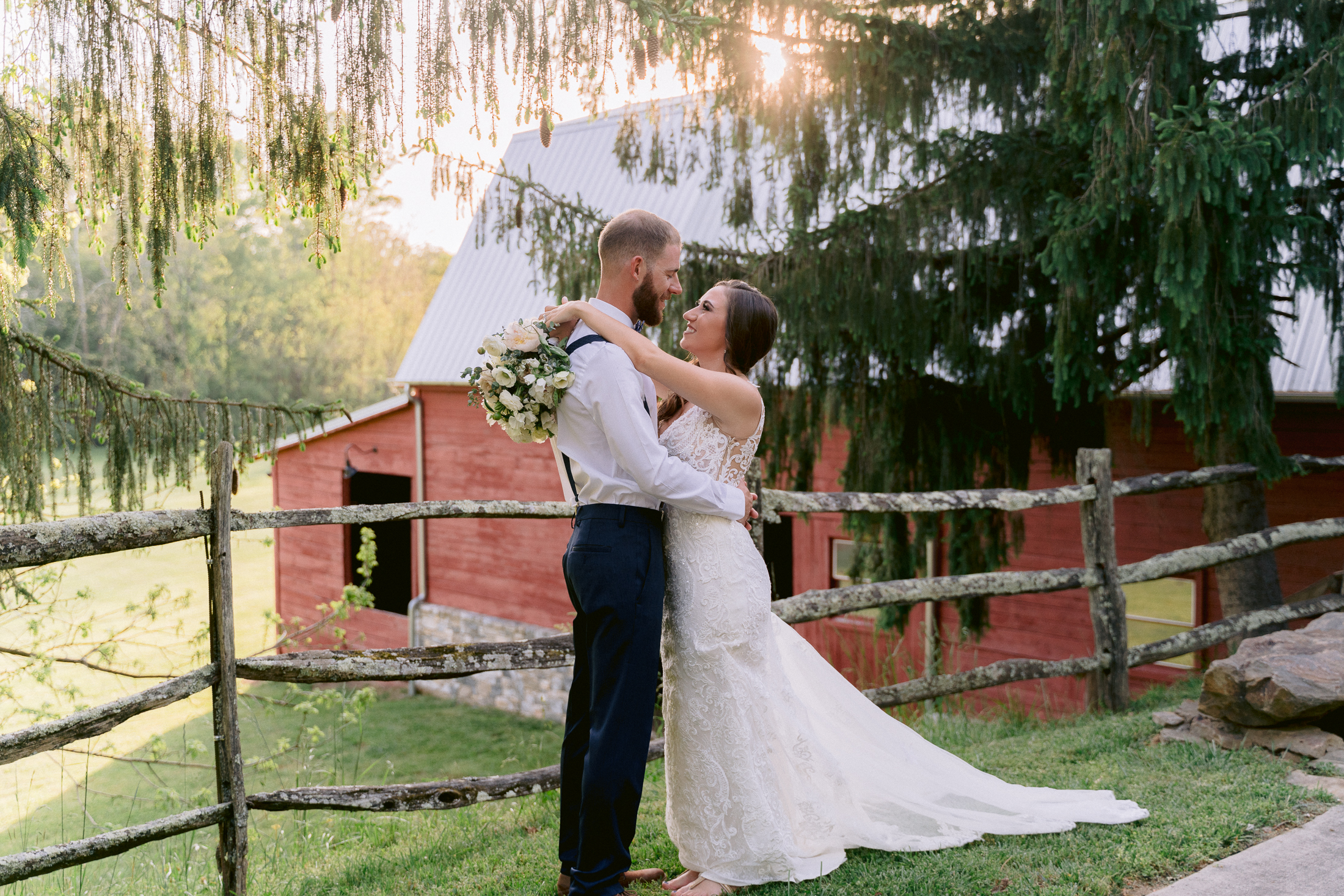 Weather
When you're planning to elope in Asheville, it's important to consider the weather! Below is a graph of the temperature averages in Asheville, North Carolina.

As you can see, winters are pretty chilly, to say the least! Unless you're dreaming of a snowy elopement, you'll probably want to avoid the colder months. It's also important to keep in mind that many mountain roads, including the Blue Ridge Parkway, close for a few months in the winter, and hiking trails can be snowed in throughout the spring. The weather changes quickly in the mountains – but June through September is your best bet for sunshine and clear skies.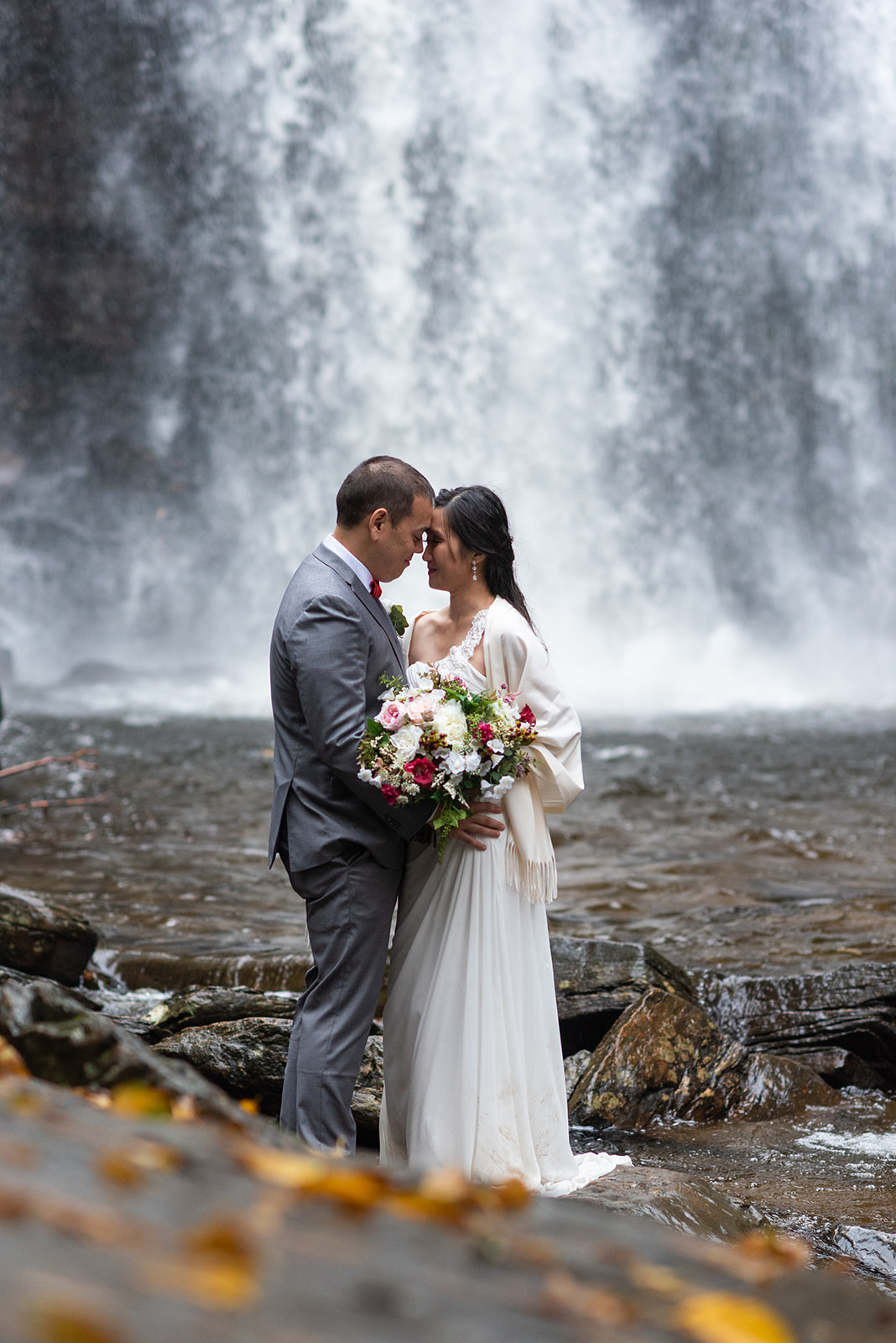 Avoiding Crowds
While good weather is amazing, it often coincides with the busy season when it comes to parks and outdoor recreation. Summer brings crowds of tourists, and locals, who want to enjoy the great weather and gorgeous scenery.
One way to avoid crowds is to go during "shoulder season" – which means right before or right after the peak. Late spring and early fall are gorgeous in Asheville, and if you're planning your elopement, our team at Legacy and Legend can help you find the perfect elopement date and location based on crowds, weather, flowers blooming, and more!
Another way to avoid the crowds and ensure that your elopement ceremony will stay intimate and secluded is to elope on a weekday – especially Monday through Thursday, as people tend to take Fridays off to give themselves a long weekend. The parks and outdoor spaces of Asheville get significantly more crowded on weekends, and it's harder to find a private spot to read your vows to each other.
We always recommend scheduling your elopement ceremony for sunrise – not only will the lighting be amazing, but waking up early is the best way to avoid crowds.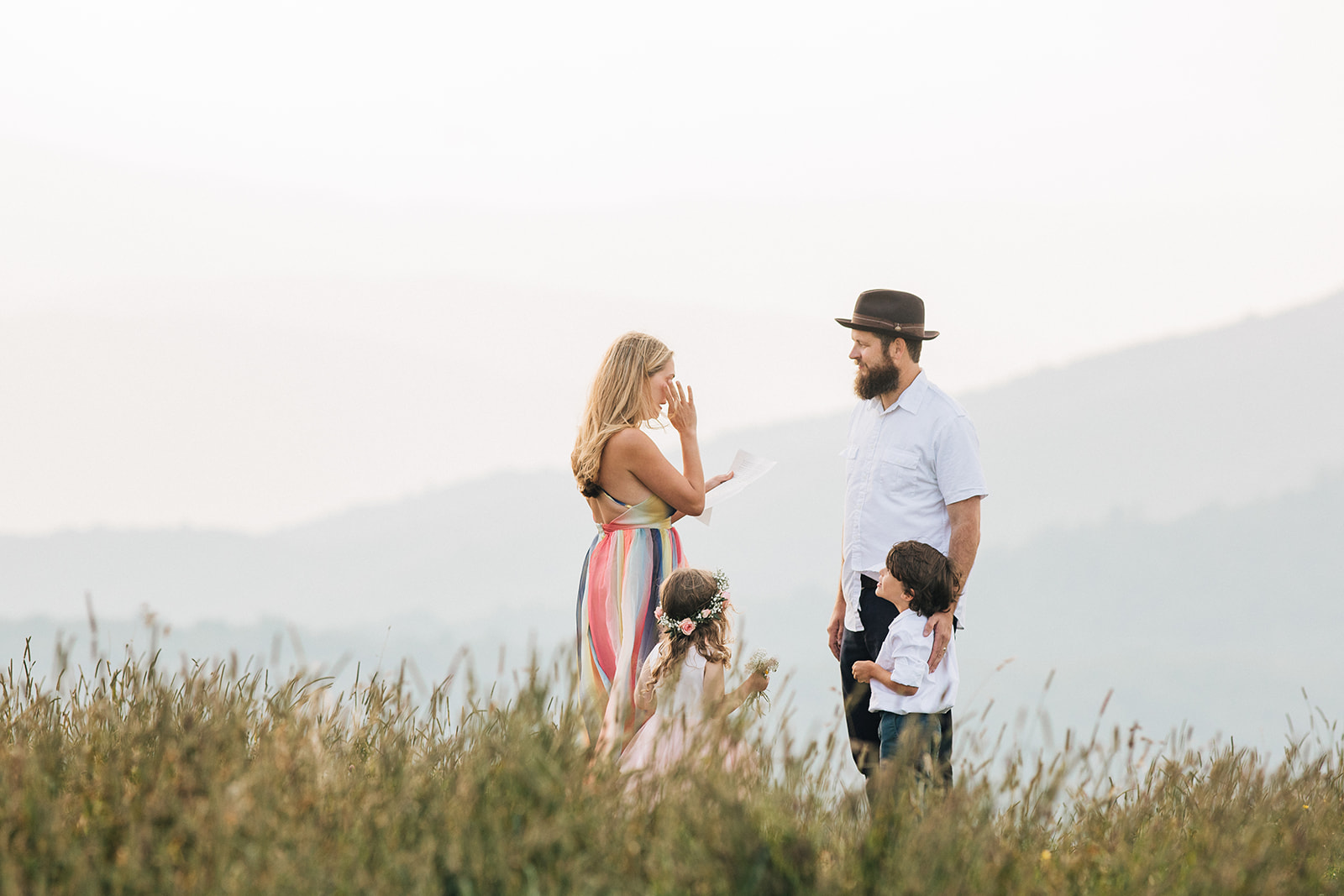 Legal & Logistics
Yeah, the legal stuff might be a little boring, but it's important! To make sure your marriage is legal and valid, you have to know this stuff prior to your elopement day. To elope in Asheville, you'll need to have a marriage license, an officiant, and two witnesses.
The Marriage License
You and your partner will need to appear at any Register of Deeds office to get your marriage license. This can be done at any office in North Carolina – it doesn't have to be in the county where your elopement ceremony is taking place. Couples are also encouraged to fill out the application online ahead of time, which can be done here. You will need your IDs, social security cards, and $60 to receive the license. There is no waiting period for the marriage license, which means you can elope right after you get it! It does however expire after 60 days, so make sure you get your license no more than 60 days in advance.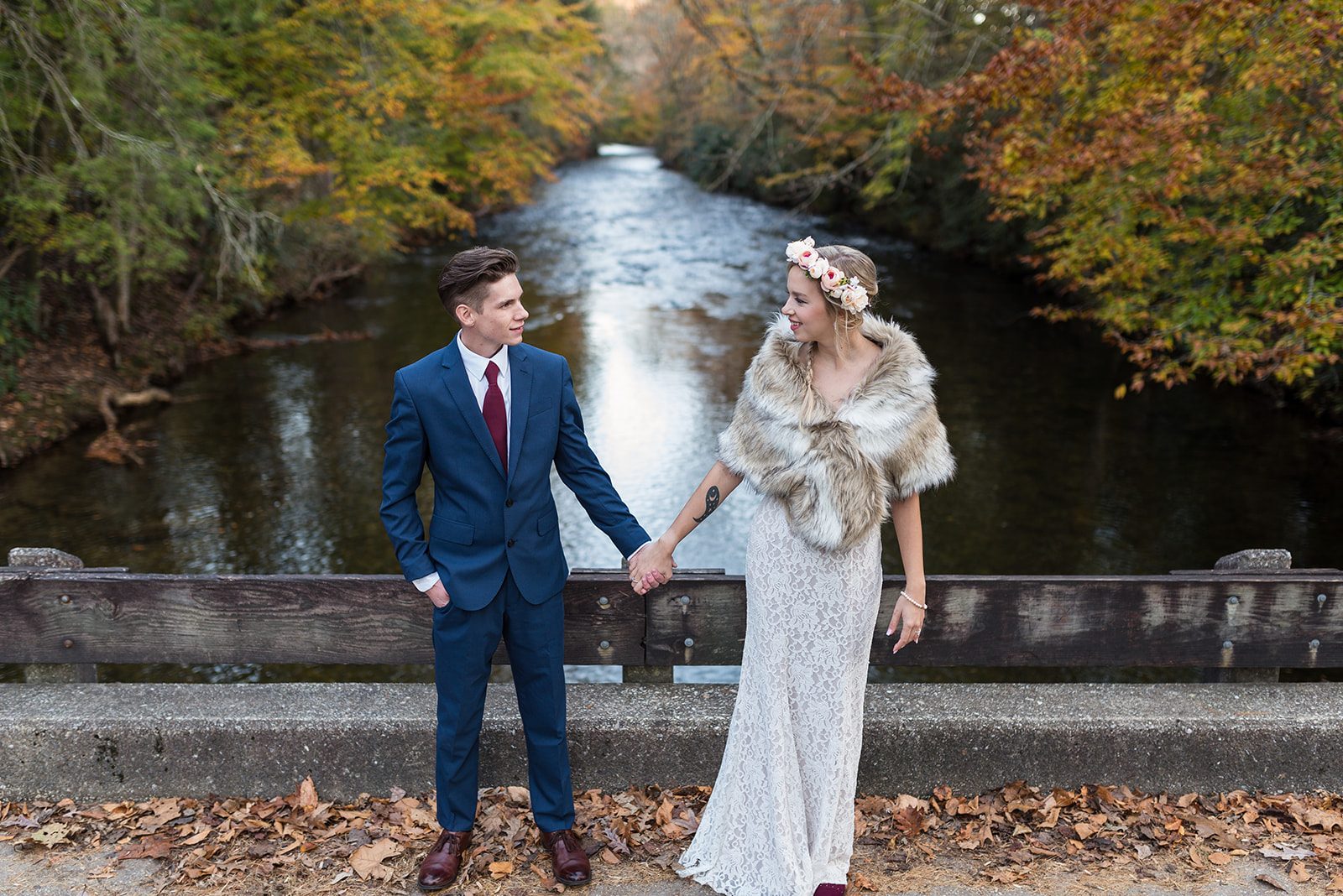 The Officiant
The good news is that elopement packages with Legacy and Legend include an officiant! This way, you won't have to worry about finding someone who's down to adventure with you on your day.
Want to add a personal touch to your elopement ceremony? You can ask a friend or family member to officiate for you! Getting ordained is incredibly easy, and can be done in just a few minutes through Universal Life Church.
Witnesses
When you elope in Asheville, you will need two witnesses to sign your marriage license. But, don't fret – if you were hoping for just a two person elopement with no guests, you can still make that happen! Your vendors can be witnesses, or you can ask any two people you meet at the trailhead or at your ceremony spot – as long as they're over 18 years old!
Book your Vendors
We've got you! What makes us different is that we don't just take photos and video on your elopement day. We offer all-inclusive3 packages that take care of everything. Because the whole point of eloping is that it's stress free, right? With Legacy and Legend, you can kick your feet up, pour yourself a glass of wine, and know that everything is taken care of.
If you prefer to DIY it, we'll connect you with the best vendors around!
Get Prepared
Now you're an expert on how to elope in Asheville – but there are a few more things to remember. You'll want to be comfortable on your elopement day, and these tips will ensure that you have a great experience!
When choosing your elopement attire, remember to pick shoes you can hike in! Make sure they're broken in – you definitely don't want to deal with blisters! A good pair of hiking boots can compliment an elopement dress surprisingly well.
The mountaintop can get windy – so make sure you have a hair tie in your bag in case your hair gets a little wild.
Mountaintops can also be much cooler than you anticipate. Usually, while you're hiking you'll get really warm, but after a few minutes of not moving once you reach the summit, you'll cool down quick! We know we sound like your mama, but bring a jacket! You'll thank us later :).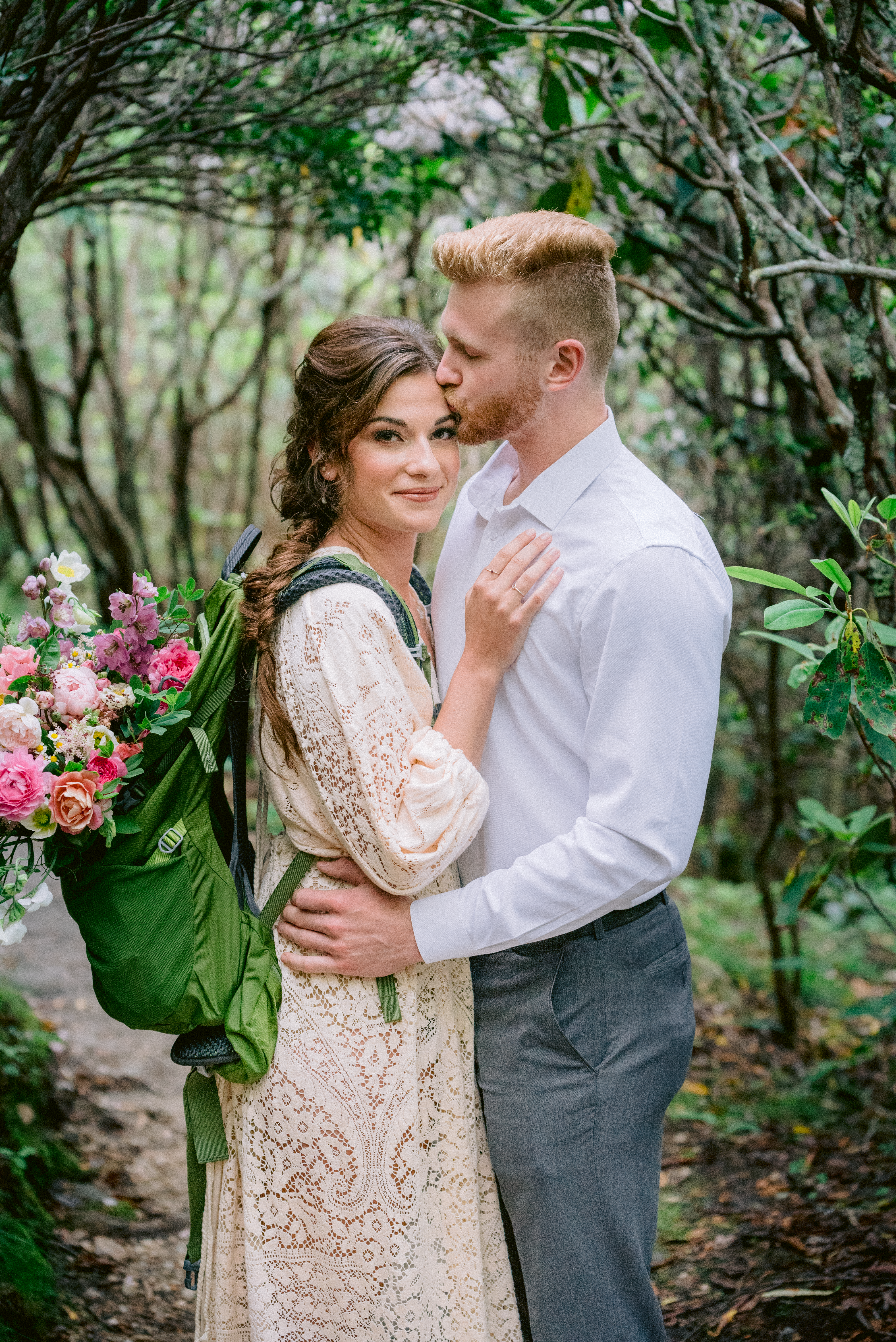 Relax & Celebrate
Woohoo!! You eloped! Within 2 weeks, you'll have your photos from us. We know you want to share your day, and we can't wait – and you shouldn't either! After all that elopement planning and excitement and adventure is over, take a moment to realize what you just did. You're starting your life with the person you love most in the world, and that's something to celebrate. Relax, breathe, and enjoy this new season of life that you just entered together.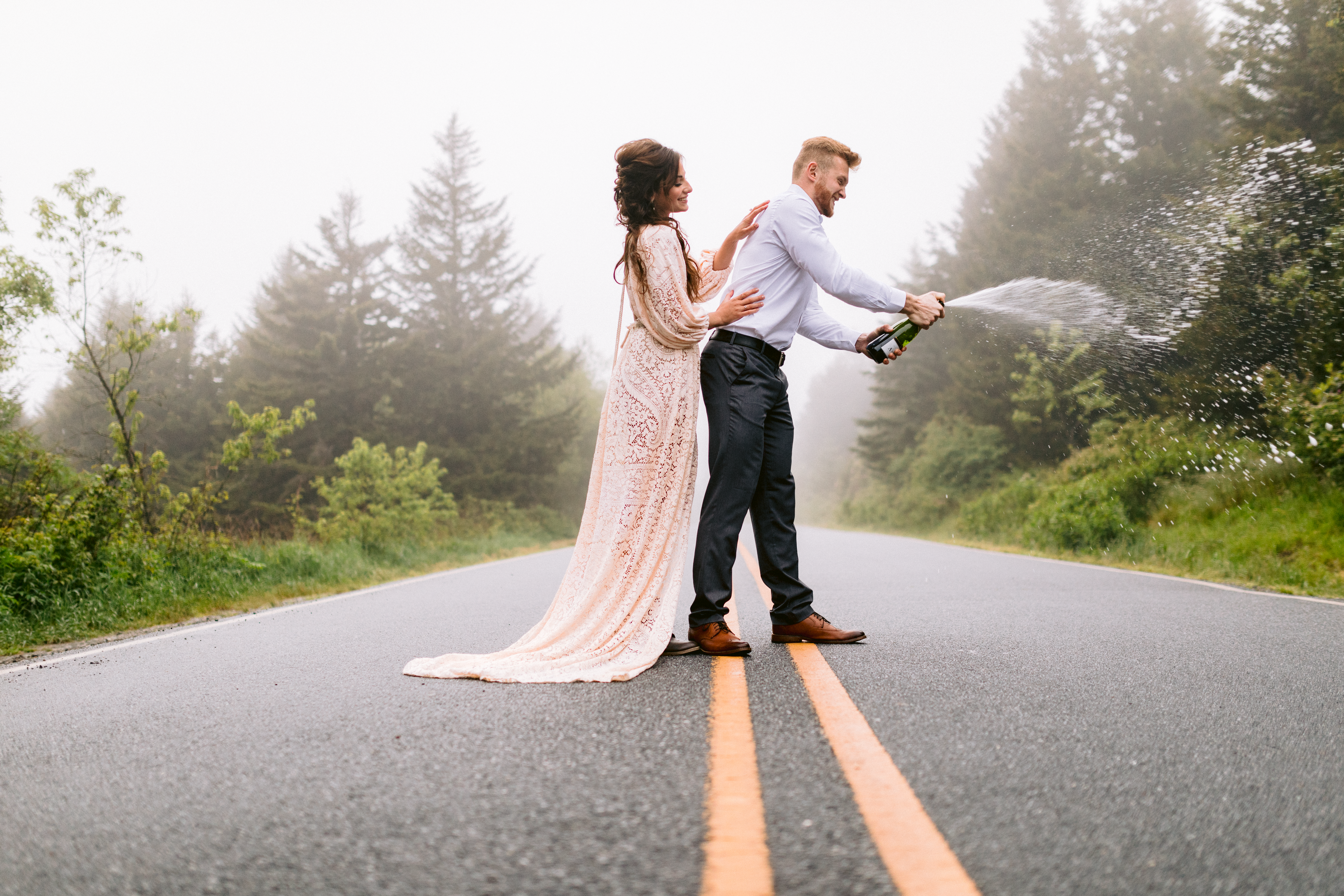 How Legacy & Legend Can Help You Elope in Asheville
We make planning your elopement stress free! If you're ready to elope in Asheville, hop on a call with us, and let's chat about you two and the type of adventure you're looking for. We'll make personalized location recommendations, draft a custom timeline, and find the perfect photographer for you!
Our elopement packages include (at a minimum):
Up to 2 hours of photography

Planning and customizing your location/timeline

Officiant

Bouquet & Boutonniere

Rain Plan / Back-up Location
All of our elopement collections include up to 10 guests, and there are no additional fees for photos of the two of you with your closest friends and family.
Having video of your elopement day is something that a lot of couples don't think about, but it can be a really amazing way to capture your memories. No one's ever regretted adding video to their elopement day – and we have videography available! You can check out our videos here.
We absolutely love capturing photos of the two of you on a mountain top with waterfalls gushing behind you, and when we can make that happen, we're stoked! We also realize that you may want to share the ceremony with your grandparents, and hiking to the top of a mountain with 10 people may not be what you are looking for. So we have a perfect solution!  We have partnered with some amazing venues here in the area, so that your ceremony can have seating and restrooms for your guests – they also serve as a great rain plan! The best part? No additional fees!
Ready to elope in Asheville? Get in touch!