Eloping isn't always as easy as lacing up your hiking boots and heading into the wilderness to say your vows! A lot of places require elopement permits, even for tiny ceremonies, and a lot of places have rules and restrictions about guest counts, decorations, and other details.
This guide will tell you all about elopement permits, why there are all these rules when it comes to elopements, and why this stuff is important!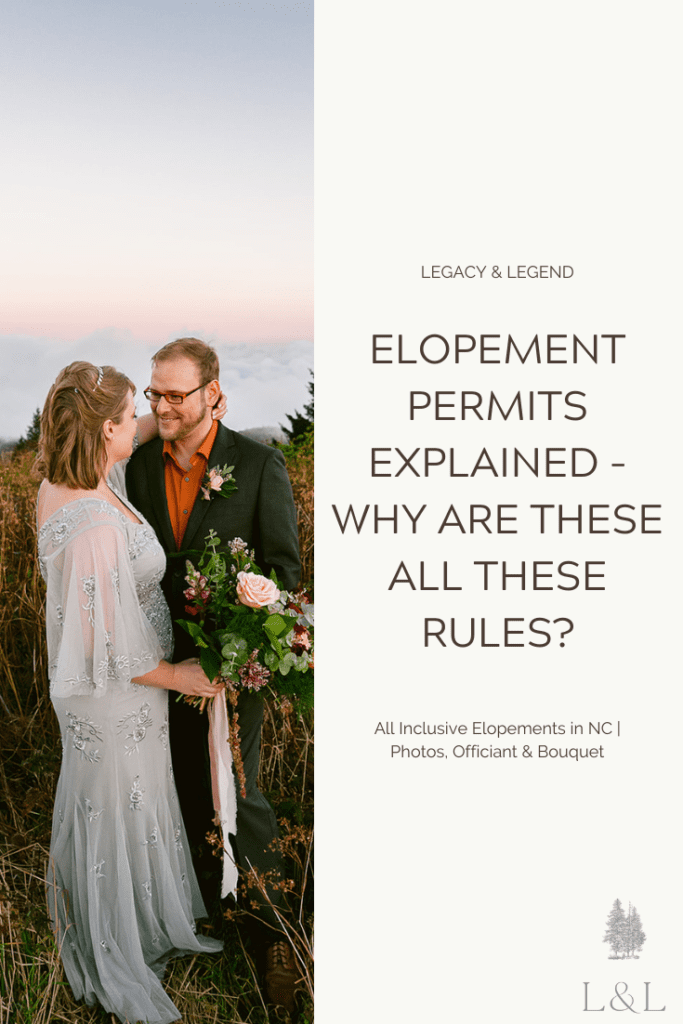 What is an Elopement Permit?
First things first, what is an elopement permit?
The elopement permit is a document signed by the park office at the location that you're eloping that says you're allowed to have your ceremony there! It's usually called a wedding permit or a special use permit, and information for getting one can be found on most park websites. Permits usually apply to a specific location in the park that needs to be noted when you apply.
There's usually a permit application fee as well, which depends on your elopement location!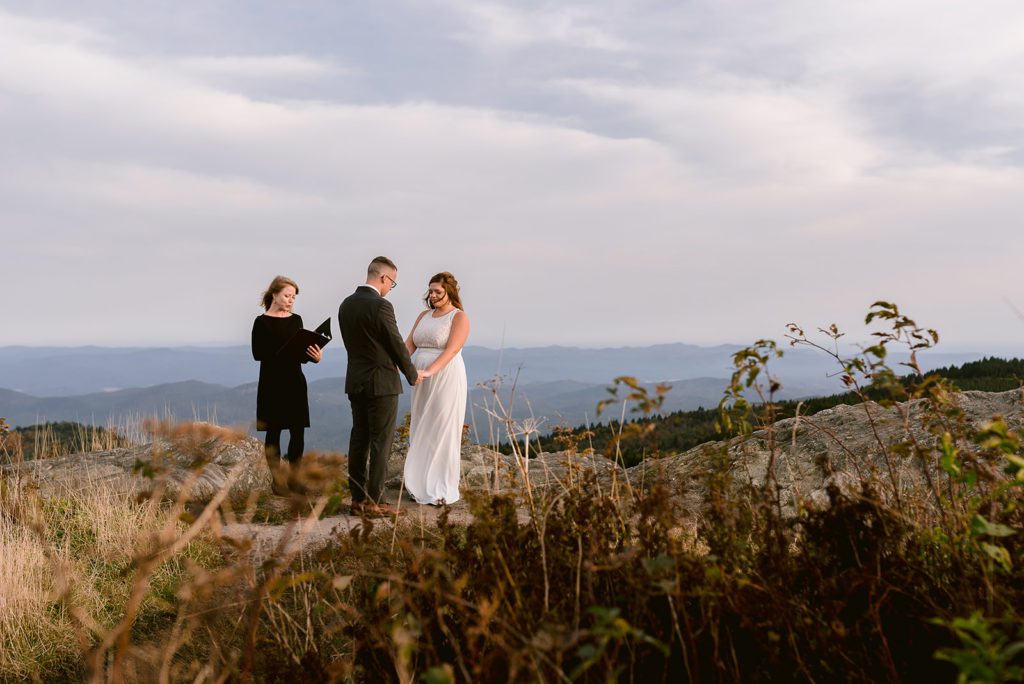 Do You Need a Permit to Elope in a Park?
A lot of couples wonder if you need a permit to get married in a national or state park, or if they need to get a permit for their tiny ceremony. There isn't a one size fits all answer, as the rules are different for every park!
Sometimes you only need a permit if your ceremony has more than a certain number of guests. Sometimes you don't need one at all. After you've decided where you're eloping, do some research and find the elopement permit requirements for your elopement location.
There are a few popular elopement locations in North Carolina, like the Blue Ridge Parkway and Great Smoky Mountains National Park.
Blue Ridge Parkway Wedding Permits
Blue Ridge Parkway requires a wedding permit for elopement ceremonies of any size. The limit is 25 people – which includes the couple, the guests, and any vendors. You can find the application, along with some rules and restrictions specific to the Blue Ridge Parkway here. The elopement permit application fee is $60, plus an additional $40 after the permit is approved.
Great Smoky Mountains National Park Wedding Permits
Great Smoky Mountains National Park requires wedding permits for all ceremonies as well! You can find the application, along with the guidelines, here. This elopement permit costs $50, and is limited to 25 people and 6 cars.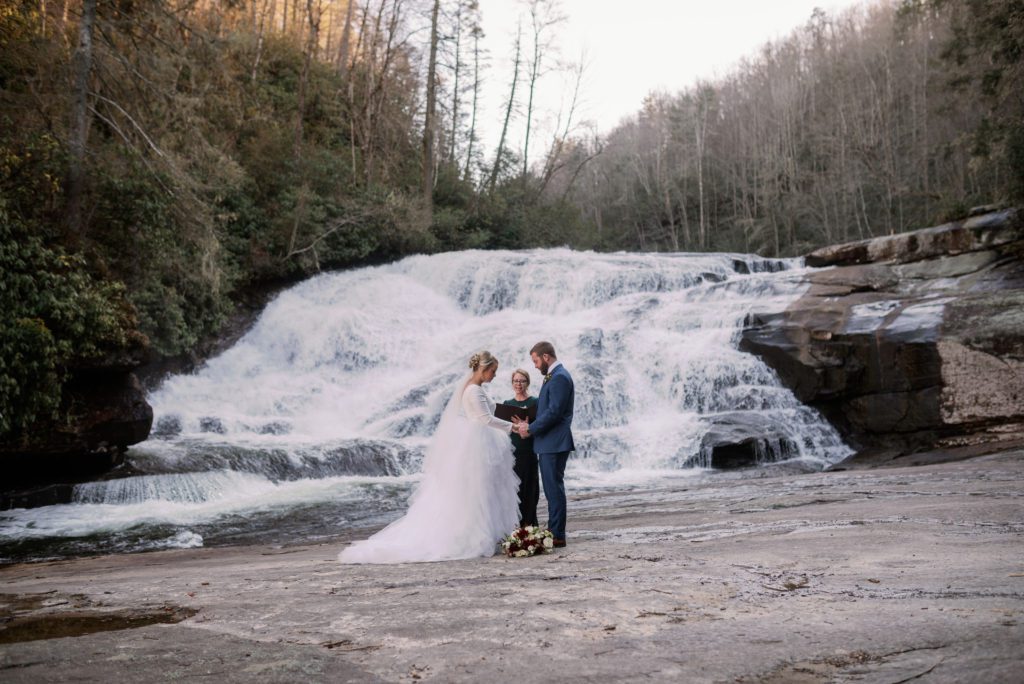 Why Do We Need an Elopement Permit, and Why are There All These
Rules?
A lot of people don't realize that elopement permits are a thing, and wonder why it's necessary at all. After all, it's just a tiny ceremony, right? The truth is that elopement permits are important for several reasons!
Privacy
First, elopement permits benefit couples too! Locations that require an elopement permit will ask for a ceremony time. They will only issue one permit for that time (usually a 2 hour timeframe). Some places also limit the number of wedding permits they give out per day. This ensures that when you tie the knot at your location, you'll be the only couple there!
One thing that's important to know is that while you'll be the only ones having a ceremony at that place and time, most parks don't allow you to block off areas of the trail or location, so regular park visitors will still be around! For extra privacy, some parks offer specific spots that can be rented for your ceremony, or you can find an elopement venue.
Leave No Trace
The real reason why elopement permits exist, and why there are so many rules, is to protect the natural beauty of the parks. Our natural landscapes are more fragile than we realize. We can sometimes do some damage, even with the best intentions! Things like decorations and flowers can cause damage, especially if left behind. We as humans can disturb wildlife or plant life.
Elopement permits are a way to ensure that the park office is aware of what's happening. This also ensures that the couple is aware of all the rules and regulations in place to protect the land. The application fees for special use permits also help keep the park beautiful!
Some parks will also have restrictions on which locations you can have your ceremony at. Usually this happens at parks that are especially busy, or places that have seen a lot of damage from weddings. This is another reason why it's super important to make sure that you practice Leave No Trace! Not following the rules leads to locations closing down and banning elopement ceremonies entirely!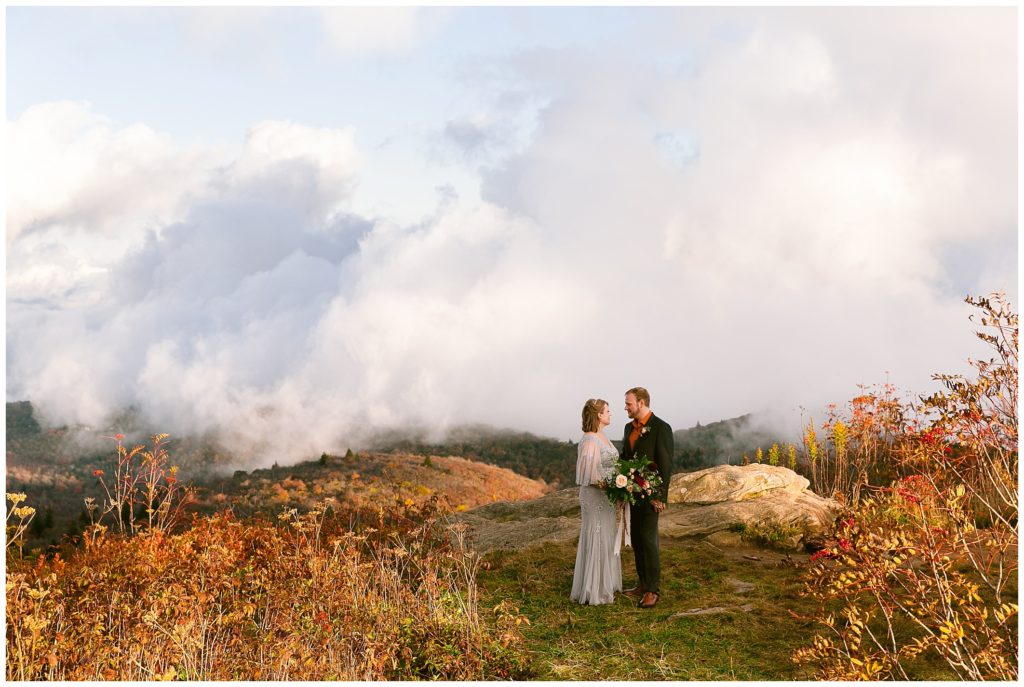 When Should We Apply for an Elopement Permit?
If you need a permit for your elopement, check with your elopement location to find out when you should apply! Most places require your application to be sent at least two weeks before the ceremony. Popular elopement locations may need more time to process. Usually, park offices will start accepting applications no more than a year in advance. We always recommend applying as soon as possible so that you don't have to stress about getting your permit on time!
Photography Permits
Along with your special use permit, some parks will require a photography permit! For most places, this isn't the case. Photography is covered under the elopement permit as part of the wedding activities. But in places that are super popular, sometimes the photographer needs a permit as well, to ensure that they're following LNT guidelines and aren't using any external lighting steps or gear that can damage the parks.
This is why it's important to hire a photographer who knows their stuff, and who can help guide you through the process of getting the right permits. It's also important to hire elopement vendors who are familiar with Leave No Trace, and who are as passionate about protecting the environment as they are about getting the shot!
Our all inclusive elopement packages include elopement planning, so we're ready to help you navigate the permit process! We've also taken the official LNT course for elopement photographers. We can help you ensure that you're aware of the guidelines for your location, so that these places stay beautiful. Contact us if you're ready to start planning your elopement!